R&R Gutters Gutter Cleaning & Gutter Repair Services
Your Gutter Cleaning Experts In Vancouver, Lower Mainland & The Fraser Valley
Soft Brush Cleaning
All the mold, algae, and debris that has grown onto your home will be removed, gently and effectively giving your home back its vibrant and fresh look, without damaging your siding.
Flashing Repairs
Flashing defects can cause massive water damage, Flashing deflects water away from your Fascia Board. If damaged, water has the potential to leak through the Fascia and cause major damage.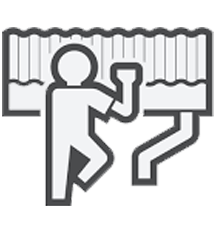 Moss Removal
Did you know if moss is left untreated it can cause your roofing material to degrade? Avoid expensive roof repairs! We remove all the moss on your roof and in your gutters.
No Obligation Quotation
Here at R&R Gutters we are transparent and want you to know exactly what your costs are before we start any work on your home. That is why we offer our no-obligation free estimate.
Request a Free Quote
Know What Your Exact Costs Are, Before The Work Starts
Here at R&R Gutters, we believe in full transparency, and that is why we offer our FREE – NO OBLIGATION QUOTE. We will come to your home, at a convenient time for you, to inspect the work that you need. If we see an issue with your Gutters, Siding, or Fascia, we will immediately bring that to your attention, so you know exactly what you are up against. Gutter Cleaning, Gutter Repairs, and Exterior Home Cleaning does not need to worry some, you can trust that our price, is our price and know that our work is guaranteed.
Over 15 Years of Cleaning Experience

Latest Cleaning Technology

All Our Work Is Guaranteed

100% Satisfaction Guarantee